There's no statue to honour the graduates of Malvern CI who served in the Second World War like the statue out front of the school honouring the grads who served in the First World War. That's why we are trying to restore the Big Book, a photo album with hundreds of portraits of the men and women who served in Canada's army, navy and air force in 1939-1945. The book is badly in need of repair and the photos need to be removed, cleaned and scanned for a planned online database.
Visit the Malvern CI Onward Malvern Donation Page to contribute to the restoration fund. Under Fund/Delegation, please select "WW2 Book Restoration".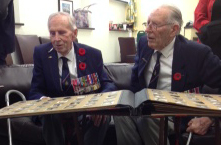 In the photo at left, Malvern grad Tom Wheler, left, visits with a fellow RCAF fighter pilot at the reception following the 2013 Remembrance Day Ceremonies. They are looking at the Big Book of photos. Tom said he recognized many of the faces featured in it, including the late Don Lush, his brother-in-law. The other gentleman is the grandfather of a current Malvern student. Both men were shot down during the war and spent time as prisoners of war.